6 Work-from-Home Ergonomic Chair Recommendations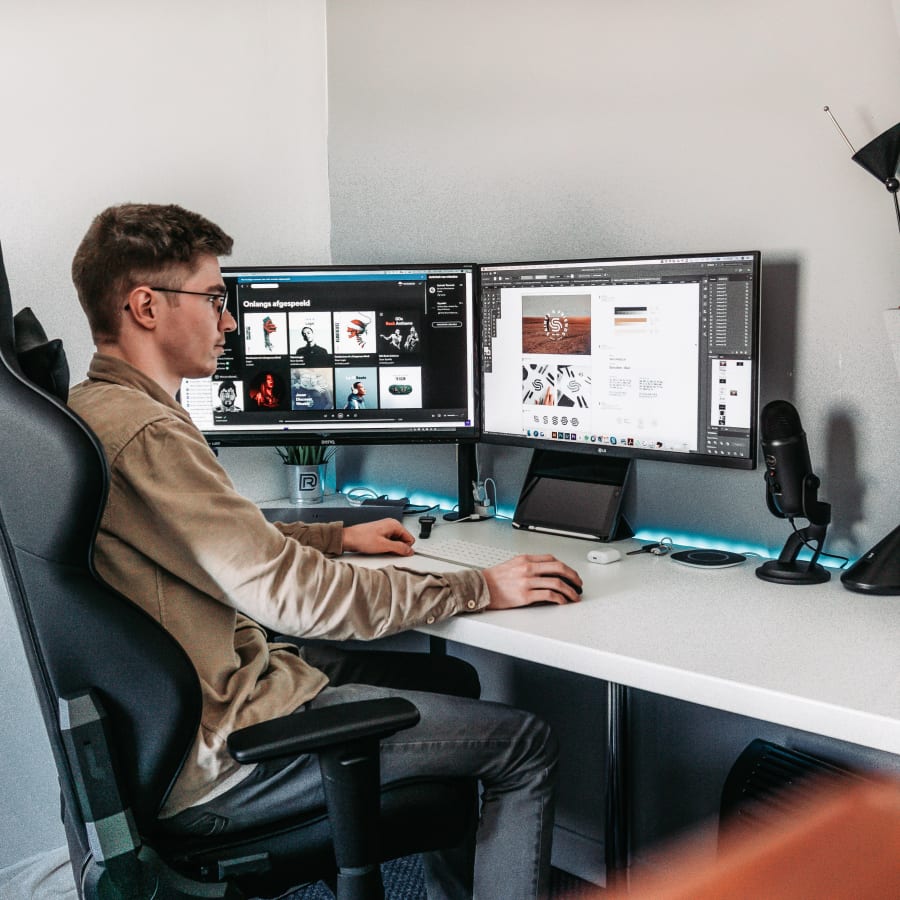 Photo by ruben daems on Unsplash
If there's one thing you can change to make spending eight hours a day in an office easier, it's your chair.
There is no shortage of evidence proving that being stuck in a chair for too long can increase the risk of cardiovascular diseases and worsen back and neck pain. Many people who have office jobs develop problems like numbness, spinal misalignment, joint pain, neck pain, and herniated discs.
Two separate studies, published in 1990 and 2003, found that productivity goes up more than 17% when individuals work in an ergonomic setting. The right chair combined with healthy posture training like the UPRIGHT Go and Go2 personal posture trainer can also reduce workplace injuries, lower back pain, and poor posture.
An ergonomic chair can help you maintain the right posture to avoid strain, carpal tunnel syndrome, lower back pain, and spinal disc injury.
What do you need to check when purchasing a new Ergonomic Chair? 
a seat pan (the flat surface area of the chair we sit on, the same part where the levers for the height adjustment are attached) with dense, small-cell foam padding or coils

a backrest that is either curved or small enough to fit the small of your back

soft armrests with adjustable height and width

hydraulic seat height adjustment

tilt adjustment to transfer some bodyweight to the chair's backrest.
Office Chairs – The Dream Team
Freedom Office Desk Chair By Humanscale

Humanscale's Freedom Desk Chair is one of the most popular ergonomic office chairs on the market. Designer Niels Diffrient aimed to design an office chair that automatically adapts to the user, allowing them to move freely from posture to posture. The Freedom Desk Chair also comes in a variety of colors and it has a recline action to keep you comfortable throughout the day. When you recline, the chair reacts accordingly to adapt to your back. Needless to say, it's a great choice if you want an ergonomic design. Just be ready to pay.


Price: 1048$

Aeron Ergonomic Office Chair by Herman Miller

Since Aeron debuted in 1994, the team at Herman Miller has learned a great deal more about how best to support people in the varied postures they adopt throughout the workday. They've updated it with a more refined tilt mechanism, and adjustable PostureFit, a feature patented by the company which provides back support at the base of your spine, helping your pelvis maintain a natural forward tilt to prevent slouching. By doing so, PostureFit keeps your spine in healthy alignment to help eliminate lower back pain. No wonder it comes at a price.

Price: 995$

Amia Office Chair by Steelcase

The Steelcase Amia may not be quite as high-tech, but it's still got its secret weapon.
Amia chair's backrest is the LiveLumbar™ technology inside. Different than a typical lumbar "cushion", LiveLumbar is a system of flexors that move with your back for consistent, dynamic support.
Oh, and it even comes in a wide range of colors, which always makes us smile.

Price: 720$
Office Chairs – The Affordable Option
Elusion Series Mesh by Alera

Alera chair has ergonomic design adjustments to fit multiple users. It also sports a cool, breathable mesh back and a contoured seat cushion with waterfall edge to help relieve pressure on legs. The Alera chair lacks many of the adjustment features of more expensive chairs, but you can adjust the tilt tension, seat height, and arm height and width to adjust the chair to your body. This chair was designed to give you a professional, efficient working environment at a good price.

Price: 375$

SOHO Ribbed Management Chair by Laura Davidson

Made from the highest quality materials, the SOHO has an adjustable backrest and durable leatherette seating surfaces that are made to last. It is definitely a looker, probably one of the cooler looking chairs on this list. It comes in many colors including Upright Green and features an attractive aluminum base. Add to a two-year warranty and the chair is a must-see for home or office.
Bear in mind, you can remove the steel arms but can not adjust it to your desk. Can you tell we love this color?

Price: 245$

Classic Balance Ball Chair by Gaiam

Our weirdest yet coolest chair is also the most affordable chair on this list.
Welcome to the world of active sitting and a chair that just might change your everyday working experience. Gaiam Classic provides all-day ergonomic support for a stronger, healthier back. Its secret sauce is the balance ball: You get your work done while working on your core as well. If you want a healthier and affordable option, Gaiam has got your core – and will leave your pocket alone.

Price: 69$
Upright welcomes pieces by outside contributors with diverse opinions. Send your submissions to: [email protected].
Sign up to our newsletter
Check out the UPRIGHT GO 2