Leading a Revolution in Personal Healthcare Management: DarioHealth + Upright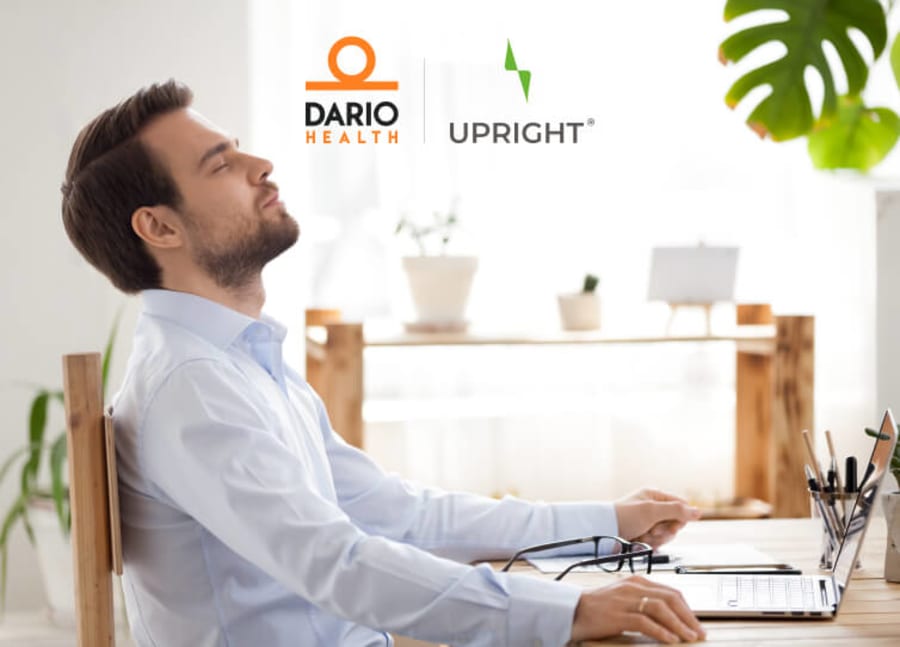 Today, DarioHealth proudly announced the acquisition of Upright, significantly expanding our line of digital health solutions devoted to people struggling with chronic conditions. Now, in addition to diabetes, high blood pressure, and obesity, people can rely on DarioHealth for musculoskeletal (MSK) problems such as back, neck, and shoulder pain.
Since 2016, Upright has been helping people improve their posture and correct poor body alignment, which has been on the rise for some time. People are eating more and moving less. They're increasingly hunched over desktop computers, laptops, tablets, and smartphones. They subject their bodies to strange positions on chairs and couches as they binge the latest series.
Back pain is one of the 15 chronic conditions that drive 80% of the total costs for all chronic illness worldwide. MSK conditions affect half the population and collectively represent the number one reason for absenteeism at work. In addition, MSK problems can inhibit mobility and interfere with a person's ability to manage other health concerns. Appropriate care for MSK conditions reduces expensive avoidable costs related to surgery, imaging, ER visits, specialist visits and the challenging sequelae of opioid use.
Collaborating on Comorbidities
DarioHealth and Upright are a perfect fit for several reasons—first, because people with one chronic condition often have others. For example, more than 75% of patients with Type 2 diabetes or obesity report at least one joint mobility issue.  And the exercise and mobility required to improve diabetes can be very challenging with chronic pain and musculoskeletal comorbidities.
Together, the combined capabilities of DarioHealth and Upright will provide a single platform that improves the quality of life for most people with multiple chronic conditions, or comorbidities.
MSK is consistently one of the top priorities for clinical improvement and cost reduction for self-insured employers and health plans. For our employer and health plan partners, the addition of Upright's solution to Dario's integrated platform means a greater ability to address a broader spectrum of needs in a more comprehensive way.
Customer-Centric Care
The two companies are also aligned on a singular commitment to customer experience excellence. DarioHealth and Upright both grew from an initial focus on D2C digital health — investing the time and resources to optimize the customer experience for greater satisfaction, engagement, and integration into daily life.
Through our consumer DNA we are uniquely tuned for improving health outcomes through consumer-centric engagement and behavior change.
Unlike solutions that only connect users to a physical therapist or provide digital-based education and coaching, DarioHealth and Upright solutions are designed to become consistent companions for each user. Average daily usage of Upright is 5.5 hours, compared to the industry average of 15 minutes. This type of integration into daily living is the key to impacting user behaviors and creating improved health outcomes.
An Evidence-Based Approach
With a combined and growing user base of more than 150,000 people, DarioHealth and Upright are using proven principles of data and behavioral science to facilitate a revolution in personal healthcare management.
With a shared approach to building highly engaging and clinically effective products, we anticipate a rapid and seamless integration to reduce employer, payor, and provider healthcare costs while improving the long-term quality of life for end users.
A Healthier Outlook
Both our companies have thrived because we relentlessly focus on the root cause of most chronic health problems: human behaviors. We understand how difficult it can be for people to get and stay motivated, so we apply all the tools at our disposal to empower them to make the right things to do the easy things to do.
Helping people stay healthy between doctor visits will continue to be our guiding principle. One of the best things about digital technology is that it puts control into individual hands, but we understand that people need more than just advice and an app. They need data transparency, personalized journeys, rewards for progress, and access to live coaches for extra support.
DarioHealth has always been committed to these evidence-based requirements for success. And starting today, with the acquisition of Upright, we will continue to apply them to conditions across the MSK spectrum.
Sign up to our newsletter
Check out the UPRIGHT GO 2